Refinancing your student loans is a great way to relieve some of the financial burdens you may be facing. There are many companies that provide student loan refinancing; however, this article is going to provide more information about Social Finance, AKA SoFi.
Some of the links in this post are affiliate links. We may receive compensation when you click on links to products at no extra charge to you. View our full disclaimer.
SoFi Student Loan Refinancing Review
I highly recommend SoFi because the application process is extremely fast, simple, and free! They also offer incredible programs to help you succeed!
According to their website: "Refinancing student loans with SoFi can save borrowers $466 a month—or $30,069 over the life of the loan."
When I refinanced 4 private student loans with SoFi, I saved $28,448.56. That is insane!!!
By locking in a lower interest rate on your student loans, you could save tens of thousands of dollars and pay your student loans off faster!
What is student loan refinancing?
College graduates in America are more burdened by student loan debt than ever before. In fact, the average student loan borrower graduates with $37,112 in student loans.
As student loan debt increases, so do the monthly payments. Refinancing your student loans typically lowers your monthly payment and reduces the total amount of interest paid on your student loans.
If you have multiple loans (federal or private), you could also take this time to consolidate them into one new loan.
When you refinance your student loans, a new loan with better terms, is used to pay off your old loans that have high monthly payments and high-interest rates.
What is SoFi?
SoFi is the leading student loan refinancing provider! They also offer other services such as mortgages and personal loans.
SoFi will refinance $5,000+ of your student loan debt – there is no cap. It's free to apply and there is no origination fee. If you pay off your student loan before your term is up (5, 10, 15, or 20 years), you will not be penalized.
You will probably have a difficult time finding a lower interest rate anywhere else! Fixed interest rates available (as of 4/8/2018) from 3.250% APR to 7.125% APR when you enroll in AutoPay. Variable rates start from 2.890% APR to 7.380% APR when you enroll in AutoPay.
SoFi allows you to refinance private and federal student loans. However, with any lender, you will give up all federal protections and programs if you refinance your federal loans. For this reason, I chose to only refinance my private student loans at this time.
Why should I refinance my student loans with SoFi?
I chose to refinance my student loans with SoFi because they had the best rate and the best reputation. They truly want their customers to succeed and will do whatever they can to help you.
SoFi is unique among private lenders because, in addition to excellent loan terms, they offer several incredible programs that benefit their customers:
Unemployment Protection – If you are fired or laid off, SoFi will suspend your monthly payments for up to 12 months, until you find a new job.
Entrepreneur Program – If accepted into this exclusive program, loans can be deferred for up to six months so that graduates can pursue their dreams of starting or growing their businesses. SoFi will invest seed capital into your company, and also provide mentors, investors and other tools to help you be successful.
Career Resources – Take your career to the next level with expert guidance from SoFi career coaches and mentors.
Investing Help – Connect with licensed SoFi Wealth, LLC advisors that will help you manage your money and start investing. There are no trading, transfer, custodian, or commission fees!
Community – Attend networking events, happy hours, hands-on workshops and high-profile speaker series. There's also a very active Facebook group where you can connect with people in your position – share advice, ask for help, and get free SoFi swag!
Discount – For being a SoFi member, you get a 0.125% rate discount on additional SoFi loans (mortgages, personal loans, etc.).
What is Sofi's eligibility criteria?
To be approved for a SoFi student loan refinance loan, you must meet their underwriting criteria and the requirements below:
You are at least the age of majority in your state and able to enter into a binding contract.
You are a US citizen or permanent resident, 18 years or older. If you are a permanent resident, you have more than 2 years until your status expires, or you have filed an extension.
You must be employed, have sufficient income from other sources. Or have an offer of employment to start within the next 90 days.
You have graduated with an associates' degree or higher from a Title IV school.
You are looking to refinance educational debt. Bar loans and residency loans are not eligible for refinancing at this time.
SoFi offers refinance loans in 50 states plus the District of Columbia.
The minimum loan amount is $5,000 (may be higher in specific states due to legal requirements).
Loan eligibility also depends on a number of additional factors, including your financial history, career experience, and monthly income vs. expenses.
An excellent credit score or a co-signer could help you be approved.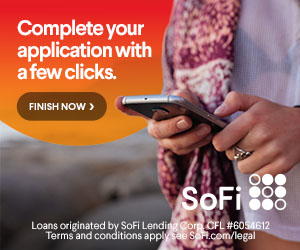 How do I apply for a student loan refi with SoFi?
All that sounds amazing and now you want to apply. Lucky for you, it's an extremely straightforward process.
Checking your rate WILL NOT affect your credit score!
Complete the online application. You'll find out if you're pre-approved within two minutes!
Select your interest rate and term (length of repayment). Choose between a variable or fixed interest rate. Some risk comes with choosing a variable rate.
Verify your information, upload necessary documents (state ID, old loan documents, etc.) and sign your paperwork electronically.
SoFi will pay off your old loans and will issue you a new student loan.
Celebrate the extra money you'll have in your pocket!
If you are not immediately pre-approved, don't fret (this happened to me). A co-signer may be able to help you get approved!
Final Thoughts
Refinancing my student loans with SoFi was one of the smartest things I've ever done. However, I wish I had done it sooner. I didn't know this was even an option until FOUR YEARS after graduating from undergrad.
Don't be that guy.
I saved over $28,000 and could save even more if (when) I pay it off before the term date. Checking your rate will not affect your credit score, so you have nothing to lose! Check your SoFi student loan refinance rate for free here.
Did you choose to refinance your student loans? Why or why not?